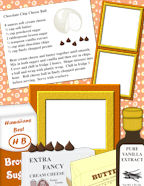 Brand New Appetizer Recipe Category Just Added.
16 Jul 2012
Welcome to our Free Kids and Chidren's Recipes site.  Kathy just added 6 new Easy Appetizer Cookbook Recipes and memory photo journaling sets.  1. Creamy Dill Dip  2. Chocolate Chip Cheese Balls  3. White Chocolate Snack Mix  4. Popcorn Nacho's  5. Cheese Italian Potato Skins 6. Polish Pickles
I hope you'll try them out and enjoy the memories you make in the kitchen with your kids.
Wes
.