Free New Years Themed Kids or Children's Cookbook Recipes and Photo Memory Journal Page Sets.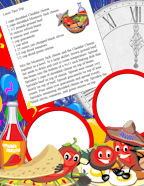 We just added 3 brand new Kids or Children's Cookbook recipes in our New Years Theme area – Complete with matching Scrapbook Photo Memory Journa Pages.
There's Oven Fried Chicken, Winter Snow Balls and even a new Layered Taco Dip kids recipe page/card set.
Just head on over to www.FreeKidsRecipes.com and once inside the "Free Kids Recipes" area from the left meny, enter the "New Years Recipe" area and you'll find the new sets near the bottom of the page. The PDF version is for those of you who wish to just print the pages and add your photos and children's memories/comments by hand. The .ZIP file contains our .PNG versions of the cookbook card pages so you can use your favorite photo, scrapbook or even your wordprosser program to add your photos and comments digitally.
Hope you enjoy all our totally FREE Kids/Children's Cookbook Recipes!
Wes and Kathy