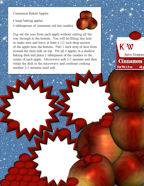 Quite simply put…
There are new Winter and Christmas themed Kids or Children's Cookbook Recipe Cards and Memory Photo Journal page sets. No hassles, no signups… Just download all you want.
… and you'll want them all!
Added Strawberry Pancakes and Gift Egg Cups Recipes today for you.
Just go to www.FreeKidsRecipes.com and choose the category you want to start with.
Merry Christmas, Happy Hanukkah and Happy Kwanza everyone!
Kathy and Wes