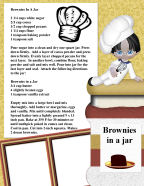 Hi Kids Cookbook fan,
Along with 3 more Christmas Holiday Kids Recipe and Memory Journal sets, I just added a brand new category:
Here you can have your childe create wonderful mixes and special crafts, put them in decorated containers and (for the really creative) print out the photo journal page as a gift tag to give to family and friends.
Kids will not only love making the gifts, but cooking and using them after the holiday or special event is over.
Check out the new Kids Recipe Gift Ideas section and see for yourself what we mean.
Here's to making the holiday's the best ever!
Wes and Kathy