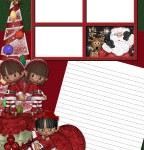 OK, I've got your FREE Kids Christmas Holiday Recipe's and Scrapbook Journaling page sets all ready for you to download.
No Hassles or sign-ups needed!
Just go to: www.FreeKidsRecipes.com and download them. We would really love if you would come on back here when you are done and let us know what you think.  New site needs your feedback and comments to make it even better.
Definitely a Treat for Halloween…
Wes