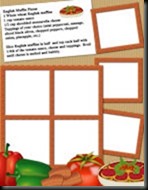 Kathy just added 2 new Easy Autumn or Fall Seasonal Simple Kids Recipes to the site.
10. Warm Crab Dip     11. English Muffin Pizza's     12. Cheesy Quesadillas Recipes
Don't forget that each one of these children's easy recipes comes with it's own matching Memories Made in the Kitchen Scrapbook type page so you can preserve those most treasured memories of cooking with your kids or grandkids. Just head on over to www.FreeKidsRecipes.com and start your own custom children's cookbook and memory album.
Wes