21 Oct 2015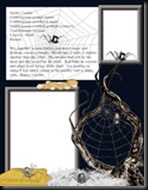 Added 3 new Recipe Sets to our Halloween Day of the Dead or Fall Festival Holiday section. These sets also, as always, come complete with matching scrapbook/memory book journaling page. 1. Pumpkin Juice 2. Spider Cookies 3. Krispy Popcorn Balls.
We also added 3 new Recipe Sets to our Autumn / Fall Recipes Area. These sets also come complete with our matching easy scrapbooking or memory book journaling page so you can preserve those treasured memories made in the kitchen. 1. Gingersnap Crisps 2. Icecream Sandwichs 3. Caremel Peanut Butter Dip.
Hope to see you there soon.
Kathy and Wes